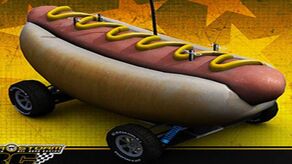 "Finally, the worlds of fast food and Radio Controlled racing have met in this delicious ride that looks good enough to eat. Don't though, as it's a car and would probably taste horrible. Okay, maybe just a little bite."
- PlayStation Store product description
The Wulff Weenie is a downloadable remote-control buggy in MotorStorm RC. It consists of a plastic hot dog sitting atop a remote-control car chassis.
The Weenie is somewhat like the Italia Buttercream, as both the vehicles' bodies are based on edible items, although the Weenie lacks a plate to support it. It is instead held in place on the remote-control chassis by four clips, as used on all the other RC vehicles.
This is by far the largest RC Buggy, thanks to its somewhat comical bodyshell. It is so big that it rivals the RC Big Rigs and Monster Trucks for size.
The Wulff Weenie is available in the PlayStation store for $0.25/€.0.25.