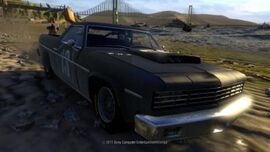 The
Wombat Darkwood
is a
Muscle Car
in
MotorStorm: Apocalypse
, accessible via the
Outlaw Vehicle Pack
DLC
. According to a
Festival Card
, this Muscle Car is the signature vehicle of the character
Muerte
, and before the Outlaw Pack was released, this could only be seen in races where he is a participant.
El Coche Funebre
Edit
Muerte's ride, El Coche Funebre (literally "The Hearse" in Spanish) is the nickname of Muerte's signature Wombat Darkwood.
Muerte's dark chariot is a custom '94 Wombat Darkwood, delivering 300 horsepower through a V8 engine. The chassis is reinforced, and the bodywork enhanced with steel ramming plates, allowing Muerte to bully all but the most perserverant MotorStormer straight off the track.
"I hate the guy, but he's got a very cool car." - Dice
- Festival Card No. 121
Appearance
Edit
The Darkwood resembles a real-life class of vehicle that is half car, half truck. Vehicles in this category include the Ford Ranchero and Chevrolet El Camino, and originated as 'Utes' in Australia. The Darkwood itself resembles a significantly modified Chevrolet El Camino.
The Wombat Darkwood has blue and yellow fuzzy dice (resembling Dice's fuzzy dice) hanging from the rearview mirror. The fuzzy dice cannot be removed via Customization. It is strange, since these should be one-of-a-kind according to his motion comic appearances. It is likely that Muerte took them from the wreck of Dice's Surger. That said, they are also present in the Prologue when Dice is still alive. This is likely just a developer oversight.
This is the first vehicle in Wombat's entire lineup that is not an offroad-based vehicle.
Muerte's Wombat Darkwood was one of only two cars where the horsepower was revealed, with the other one being the Italia Velocita.
This is one of three vehicles in the entire MotorStorm series that has its own name imposed on itself (on the stock Trunk), alongside the Ozutsu Blacksun J-GT and the Italia Areto.
Its last "Grille" customization option mounts a rather demonic chromed deer-like skull on the front of the vehicle, complete with eyes that glow red when the player boosts.
Despite being produced in 1994 (as the Festival Card states), the car itself resembles vehicles produced in the 70s.
Very ironically, despite this Muscle Car being included on-disk, it was only available to Muerte as his exclusive ride, and not available for the players (until the release of the Outlaw Pack).
In Muerte's Docklands - "Ship Shape" event, you can 'test drive' the Darkwood for free (that is if you have not purchased it yet).
The Darkwood is also available in the RC Pro-Am Expansion Pack for MotorStorm RC.
References
Edit
http://community.eu.playstation.com/t5/MotorStorm/Motorstorm-Apocalypse-Vehicle-Guide-V1/m-p/12667487