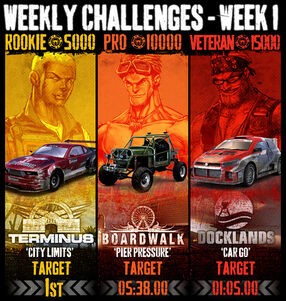 Weekly Challenges were special events in MotorStorm: Apocalypse. Weekly challenges were updated every Wednesday of each week and had three distinct difficulties - Rookie, Pro, and Veteran.
They were added to the game in the "After Party" patch.[1]
Each week, three new challenges were added to the Special Events section of Wreckreation in Apocalypse. There are three difficulties, ranging from the easier Rookie challenges to the more difficult Veteran challenges. Every time the player completes a challenge they are rewarded with "chips". Completing rookie challenges earns the player 5,000 chips, completing pro challenges earns the player 10,000 chips, and completing veteran challenges earns the player 15,000 chips. There are two types of challenges, the "Time Attack" challenges, where the player has to complete a certain amount of laps in a specified amount of time in order to earn chips, and the "Race" challenges, where the objective is to finish the race in a certain rank. The events also commonly have the player use a specific vehicle class when trying to complete challenges.
Previous weekly challenges are not possible to access once the week to complete them is over.
Since MotorStorm: Apocalypse is no longer supported, there is no longer any weekly challenges, and they're very unlikely to return due to the closure of Evolution Studios by Sony in 2016. Trying to access the mode now will glitch the game.
References
Edit
Ad blocker interference detected!
Wikia is a free-to-use site that makes money from advertising. We have a modified experience for viewers using ad blockers

Wikia is not accessible if you've made further modifications. Remove the custom ad blocker rule(s) and the page will load as expected.