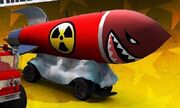 "Set the MotorStorm RC Festival off with a bang and blaze a trail past the competition in the Voodoo Firecracker; this Super Car requires a real speed demon behind the wheel to create a controlled explosion."
- PlayStation Store description
The Voodoo Firecracker is a downloadable Supercar in MotorStorm RC. It is based on a cartoon-esque missile. The standard Radioactive Trefoil symbol is painted on the side of it. Although it is named after Firecrackers, the actual vehicle is more akin to a ballistic missle with clouds underneath the body. The front of the Firecracker has a design which resembles typical designs found on the Curtiss P-40 Warhawk.
Price/availability
Edit
The Firecracker is available to download from the PlayStation Store for free, but for a limited time only. From then on, it will be a paid-for item.
References
Edit
http://www.facebook.com/MotorStormRC#!/photo.php?fbid=391376934217929&set=a.313948125294144.72987.275572505798373&type=1&theater
Ad blocker interference detected!
Wikia is a free-to-use site that makes money from advertising. We have a modified experience for viewers using ad blockers

Wikia is not accessible if you've made further modifications. Remove the custom ad blocker rule(s) and the page will load as expected.