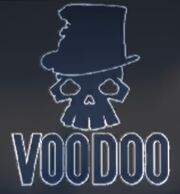 Voodoo
is a
manufacturer
(and possibly also a tuning company) in the
MotorStorm series
. Their vehicles are either purpose-built racing vehicles, highly modified street vehicles, or radical custom-built machines. Some of their more extreme works include a skeleton chopper and a dinosaur head-based monster truck.
Like the majority of manufacturers, Apocalypse saw a change in Voodoo's naming themes. Prior to the game, Voodoo had an animalian naming theme, mostly named after reptiles. There were some exceptions, such as the Mastadon (which is named after an extinct species of elephant).
Ad blocker interference detected!
Wikia is a free-to-use site that makes money from advertising. We have a modified experience for viewers using ad blockers

Wikia is not accessible if you've made further modifications. Remove the custom ad blocker rule(s) and the page will load as expected.