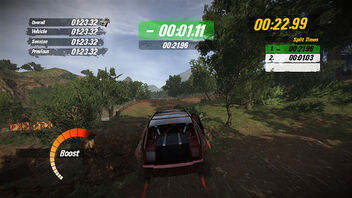 A Time Attack is an event in the MotorStorm series, it is another variant of the race mode. The aim is by nature identical "to get to the finish line fastest" but the player's only opponent is the clock since there are no other rivals to compete with. Time Attack is a single player mode that is not part of the Festival and can actually serve as a good way to get to know tracks and most efficient routes.
Description
Edit
This mode offers the possibility to run for an unlimited number of laps so that the Player can try to beat his best lap time.
Developers upload their best times to Time Attack for players to beat.
In MotorStorm: Pacific Rift, there are a couple of Trophies that are awarded for beating the developers ghosts. Beating all of them will award you the 'Hire Me' trophy, as well as the Wombat Typhoon Buggy
The four most difficult times to beat in Pacific Rift are the: Monster Truck (Wildfire), Bike (The Rift), Bike (Kanaloa Bay) and Big rig (Kanaloa Bay). Try to tackle these once you've mastered the rest.
In MotorStorm: Pacific Rift, there is also a microbadge that is aquired when a player sets a time that meets the top one hundred placements on the global leaderboard on a specific track with a specific vehicle. (unfortunately this badge can no longer be aquired due to the shutdown of the online servers)
Ad blocker interference detected!
Wikia is a free-to-use site that makes money from advertising. We have a modified experience for viewers using ad blockers

Wikia is not accessible if you've made further modifications. Remove the custom ad blocker rule(s) and the page will load as expected.