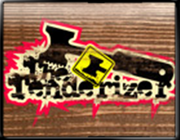 A test of handling like no other. Big Dog himself laid this course out after Hangnail Johnson joked he was going soft. Peppered with boulders and tiny squeezes through harsh canyons, the Tenderizer truly separates the wheat from the chaff, and the living from the dead.
"Let's see Hangnail do *this* in 5th gear." - Big Dog
- Festival Card #053
The Tenderizer is a track in the original MotorStorm. It is a maze of tight, twisting pathways, intermixed with numerous boulders, obstacles and jumps littering the track. There is plenty of mud and also some higher, dryer routes to suit the lighter classes.
It has a Festival Card in MotorStorm: Apocalypse.
This track tends to get clogged up easily by opponents, so try to stay clear of the Mud Pluggers.
If selecting this track from the Devil's Crossing DLC event, you will automatically drive the Atlas Arizona big rig, the only vehicle that can be selected whereas other opponents are in Mud Pluggers, Bikes and Buggies.
References
Edit
http://www.motorstorm.com/games/monument-valley/tracks/tenderizer
http://yoyo-pete.awardspace.com/Motorstorm/Motorstorm-Maps.htm
Ad blocker interference detected!
Wikia is a free-to-use site that makes money from advertising. We have a modified experience for viewers using ad blockers

Wikia is not accessible if you've made further modifications. Remove the custom ad blocker rule(s) and the page will load as expected.