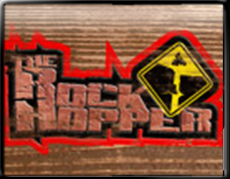 Racing across a mesa might be one thing, but jumping over the rock's time-eroded gaps might be a risk too far. A chariot race spring down one side of a butte and back up the other is exactly the sort of lunacy these maniacs love.
"Don't slow down, not even for a second" - Hangnail Johnson
- Festival Card #051
Rockhopper is a track in the original MotorStorm. As the name suggests, the track is host to many large gap-jumps, as well as some immense, artificial banked corners suspended from the side of the mesa.
In the Devil's Weekend DLC event, Rally Cars can be used for this track. While they are fast in speed, the rough jumps makes it difficult for them to maintain control after landing.
A Festival Card describing it can be found in the Festival events of MotorStorm: Apocalypse.
References
Edit
http://www.motorstorm.com/games/monument-valley/tracks/rock-hopper
Ad blocker interference detected!
Wikia is a free-to-use site that makes money from advertising. We have a modified experience for viewers using ad blockers

Wikia is not accessible if you've made further modifications. Remove the custom ad blocker rule(s) and the page will load as expected.