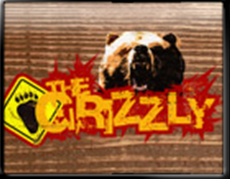 An endurance test, and the highlight of the Monument Valley festival, the Grizzly proved to be the ultimate test of ability for the gearheads, featuring flat-out racing through mud and rock over the longest course they could make.
"The Grizzly? You just gotta bear it..." - Bueno
- Festival Card #049
The Grizzly is a track in the original MotorStorm.
This track has a Festival Card in MotorStorm: Apocalypse.
This is the only track in Monument Valley (in the standard game - not including DLC) that you can drive every vehicle class on, in 'MotorStorm' races signified by the golden MotorStorm skull badge.
The Grizzly has lended its name to a track in MotorStorm RC, called the Grizzly's Den.
The Grizzly is the first track to be played in every level of difficulty before progressing forward.
The Grizzly is the only track in MotorStorm history which doesn't place players at the start/finish line before a race. Instead, players must race an extra half-lap before even beginning the race.
References
Edit
http://www.motorstorm.com/games/monument-valley/tracks/grizzly
http://yoyo-pete.awardspace.com/Motorstorm/Motorstorm-Maps.htm
Ad blocker interference detected!
Wikia is a free-to-use site that makes money from advertising. We have a modified experience for viewers using ad blockers

Wikia is not accessible if you've made further modifications. Remove the custom ad blocker rule(s) and the page will load as expected.