Supercars
Talk

3
491pages on
this wiki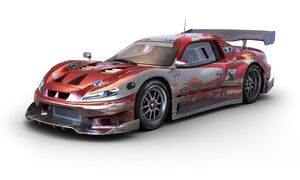 Supercars are a vehicle class that appears in MotorStorm: Apocalypse and MotorStorm RC. They have the highest boost acceleration speed of any class in the game and good grip on tarmac, but have lower strength than the Rally Cars and tricky off-road handling. A good technique for this class would be to boost as long and as hard as possible to make the most use of its fast acceleration; however, something to note about this vehicle class would be how slow they are when not boosting. They are capable of wrecking smaller vehicles such as the SuperMinis and the Bikes but are obviously outranked by any of the vehicle classes bigger than the Racing Trucks in terms of strength. They all have the same engine - a V12 - but it sounds more akin to a highly tuned V10 engine.
MotorStorm: Apocalypse
Speed: 10/10
Handling: 5/10
Toughness: 5/10
List of Supercars
Edit

Resemblance
Edit
Most Supercars are either exotic sports cars or race-built track cars. They do live up to there name, however.
References
Edit
http://www.youtube.com/watch?v=Xi65IWubM6c
http://www.motorstorm.com/games/apocalypse/vehicles/SUPER-CARS