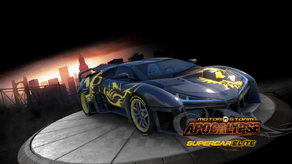 "You've got two weeks from today to pick up the ultimate 'Stormer status symbol: the Supercar Elite, and then it's gone forever. This is lightning-fast eye candy, with a completely unique look – play online and you will stand out in an instant as a dedicated Lunatic, and no-one will dare bet against you!"
- Matt Southern, Evolution Studios, in PlayStation Blog
The Supercar Elite is the first non-preorder DLC vehicle pack for MotorStorm: Apocalypse. The only vehicle included is the Italia Torquemada.
This DLC pack is relatively expensive, at roughly £4 or up to $9, indeed making it a status symbol.
So far, this DLC pack (along with the Revelation Pack) is the only one of its kind whose vehicles were never featured anywhere before or after its release in any other pack. This is very likely to hold true for the rest of the Torquemada's existence.
For a while until it was finally pulled off the PlayStation Store, the Supercar Elite was just $3 US dollars (before PlayStation Plus discount), likely to give another opportunity to those who may have wanted to purchase it and as compensation for the month-long shutdown of the PlayStation Store.
References
Edit
http://blog.eu.playstation.com/2011/04/13/motorstorm-apocalypse-dlc-launches-today/
Ad blocker interference detected!
Wikia is a free-to-use site that makes money from advertising. We have a modified experience for viewers using ad blockers

Wikia is not accessible if you've made further modifications. Remove the custom ad blocker rule(s) and the page will load as expected.