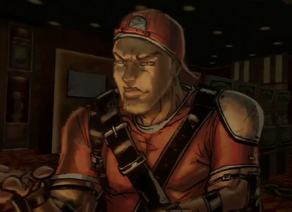 Stone earned his reputation - and place in the Brotherhood - through what he terms 'bravery' but what others call a 'sociopathic personality'. He is unresponsive and manipulative in his dealings with others and never shows fear. However, he always drives with caution, always playing the odds.
"Don't **** with me." - Stone
- Festival Card #018
Stone is a member of the Brotherhood in MotorStorm: Apocalypse. He is a friend of Hunter. His favoured vehicle may be the Patriot P10-XR, as he drives one during Tyler's Prologue. He must be unlocked for use in online multiplayer.
He is voiced by Ben Diskin.
Downloadable events
Edit
Stone is the playable character for the first Downloadable Events card, available from the Afterparty Patch 1.04. He is the Jack of Clubs. During these 6 events, he drives a Wombat Typhoon, Wasabi Wildcat MX, Voodoo Orbiter, Ozutsu Ronin MkIV, Patriot Hoodcruze-R, and a Wasabi Rascal. All vehicles have his white/green livery, which also sometimes includes the logo for Ibex ATVs, even though none appear in Apocalypse.
Stone's only friend is Hunter.
References
Edit
Ad blocker interference detected!
Wikia is a free-to-use site that makes money from advertising. We have a modified experience for viewers using ad blockers

Wikia is not accessible if you've made further modifications. Remove the custom ad blocker rule(s) and the page will load as expected.