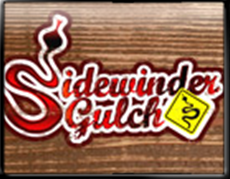 Set amongst a network of deep, dangerous canyons and narrow water-cut gorges, this track offers a thrilling, fast and wild ride.
- MotorStorm manual description
A true test of skill, the winding drybed of long-gone streams, the flat-out stretch of desert floor and the sudden threat of rocky outcroppings test high-speed racers to their limits.
"Don't lift that pedal, you wussy." - Psycho Billy
- Festival Card #048
Sidewinder Gulch is a track in MotorStorm. Its name is derived by the side-winding nature of a snake. Numerous vehicle classes can be raced effectively on this course, owing to the diverse terrain ranging from flat firm rock (suitable for Rally Cars), through to deep, muddy gulleys which suit the heavier classes like Mud Pluggers and Big Rigs.
This becomes the fourth track in Monument Valley to hold a MotorStorm race on (one in which the player can choose any vehicle), thanks to the Devil's Weekend DLC (the other three being The Grizzly, Coyote Revenge and Devil's Crossing).
References
Edit
http://www.motorstorm.com/games/monument-valley/tracks/sidewinder-gulch
http://yoyo-pete.awardspace.com/Motorstorm/Motorstorm-Maps.htm
Ad blocker interference detected!
Wikia is a free-to-use site that makes money from advertising. We have a modified experience for viewers using ad blockers

Wikia is not accessible if you've made further modifications. Remove the custom ad blocker rule(s) and the page will load as expected.