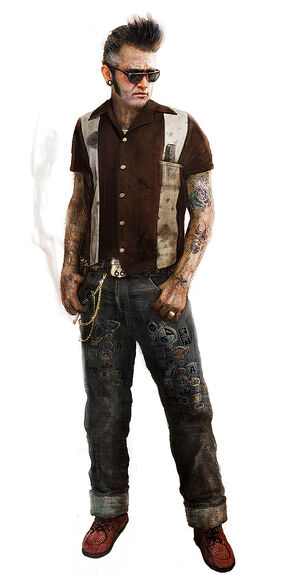 Billy enjoys his life. He hypothesizes that it's a tumerous growth in his brain that makes everything so amusing to him. Misery is, after all, the default state of modern existence - you'd have to be sick to be happy, right?
"Where'd I put that... thing I'm looking for...?" - Psycho Billy
Festival Card #008
Psycho Billy is a playable character in MotorStorm: Apocalypse. He must be unlocked by levelling up through online play.
Billy's vehicles are painted in a blue/red/grey striped design, the most prominent sponsor being Raceparts.
Ad blocker interference detected!
Wikia is a free-to-use site that makes money from advertising. We have a modified experience for viewers using ad blockers

Wikia is not accessible if you've made further modifications. Remove the custom ad blocker rule(s) and the page will load as expected.