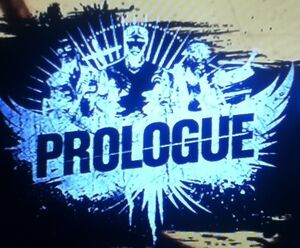 ---
Warning: This article contains information considered as spoiling, read at your own risk.
---
Prologue is a route in MotorStorm: Apocalypse. It is solely used as the first part of the story when the MotorStormers are entering the City.
In the Apocalypse Festival, there are 3 prologue races: one for each character. They are as follows:
Mash's Prologue - Day One, Dawn - Mash
Tyler's Prologue - Day One, Dawn - Destructive Events (minor) - Tyler
Big Dog's Prologue - Day One, Dawn - Helicopter fires ahead of Big Dog - Big Dog
Mash's Prologue is the only one to start with a countdown, credits, and finally tutorials for the game.
Tyler's Prologue's start line is in an airplane. When the race begins, the plane will airdrop Tyler's car on the beach.
During Tyler's prologue dusklite set up a road block to keep the motorstormers from the festival site and just in case, there is a ramp so that racers in front will get past without Tyler blowing it up.
Big Dog's Prologue's race layout is just like in Route 666, except that it is set in the daytime.
Ad blocker interference detected!
Wikia is a free-to-use site that makes money from advertising. We have a modified experience for viewers using ad blockers

Wikia is not accessible if you've made further modifications. Remove the custom ad blocker rule(s) and the page will load as expected.