---
Note: Do not upload your pictures on this article, do so on your userpage or on one of the image-related categories.
---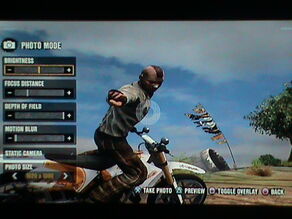 The Photo Mode is a mode seen in MotorStorm: Pacific Rift, MotorStorm: Apocalypse and the PSP version of MotorStorm: Arctic Edge. The Photo Mode is, as implied, a mode in which the player can take pictures of their experiences whilst playing the game.
Differences in versions
Edit
Pacific Rift's and Arctic Edge's Photo Mode is a highly simplified way of taking pictures, as the only technical options include zooming in and out, repositioning, and rotating clockwise or counter clockwise.
Apocalypse's Photo Mode is quite a bit more in depth, including options such as Depth of Field or Motion blur.
MotorStorm: Apocalypse options explanationsEdit
Brightness
Edit
How bright or dark the picture will be. Also slightly increases or decreases contrast.
Focus Distance
Edit
Where in the foreground/background the picture will focus on.
Depth of Field
Edit
Increases/decreases how sharp the area around the desired object will be.
Motion Blur
Edit
Increases/decreases how blurry the picture will be if the subject of the picture is in motion.
Photo Size
Edit
Sets the size in pixels of the photo to be taken.
How to export and transport pictures
Edit
Take a picture.
Go to your Photo Gallery.
Navigate to your desired picture.
Select "Export" (the picture is now on your PS3).
Quit the game and navigate to your pictures on the PS3 XMB.
Select on the folder of the month the picture was taken.
Navigate to your desired picture.
Select "Copy".
Copy the picture to a USB drive.
You now have a portable version of your picture.

Note that PSP consoles are also viable to be in the place of a USB drive, allowing the user to send pictures from their PS3 to their PSP and vice versa.
Ad blocker interference detected!
Wikia is a free-to-use site that makes money from advertising. We have a modified experience for viewers using ad blockers

Wikia is not accessible if you've made further modifications. Remove the custom ad blocker rule(s) and the page will load as expected.