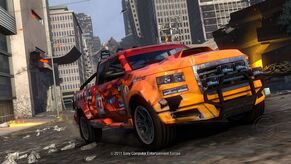 The
Patriot Wildtrek-X
is a
Racing Truck
in
MotorStorm: Apocalypse
. It resembles a standard pickup lightly modified for off-road racing. This Racing Truck seems to slightly resemble the
Patriot Rodeo
, a similar peer that was featured in
MotorStorm: Pacific Rift
.
Unlocking
Edit
The Wildtrek-X is the default Racing Truck in Apocalypse. Completing two Level 3 Part Challenges with it unlocks the Voodoo Ridgetail.
Resemblance
Edit
The Wildtrek-X is most likely inspired by a variety of American pickup trucks, such as the Dodge Ram, Ford F-Series trucks, Chevrolet Silverado, etc.
Tyler drives this on the tracks BoardWalk: "Pier Pressure" and Interstate: "The End Is Nigh".
There is a special edition of the Wildtrek-X, the Wildtrek-X SE, which was submitted through a design contest and is called the "Eurogamer Racing Truck". It has a unique tiger livery and cannot be customized. This special edition vehicle is only available in the European PlayStation Store and can be downloaded for free.
The Wildtrek-X appears in concept art for the MotorStorm RC track Park N' Ride.
It appears to be the succesor of the Patriot Rodeo.
The Wildtrek-X seems to be similar to the Patriot Bulkhead, albeit a lot smaller.
This vehicle is featured in the artwork of the "Racing Truck" Festival Card (#114).
References
Edit
http://www.youtube.com/watch?v=DahCM0GAbeQ
igcd.net
Wildtrek-X SE photo provided by Killercrusher232
https://www.facebook.com/MotorStormRC#!/photo.php?fbid=340628492626107&set=a.306622186026738.71422.275572505798373&type=1&theater
Ad blocker interference detected!
Wikia is a free-to-use site that makes money from advertising. We have a modified experience for viewers using ad blockers

Wikia is not accessible if you've made further modifications. Remove the custom ad blocker rule(s) and the page will load as expected.