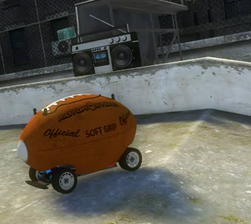 The Patriot Touchdown is a secret unlockable vehicle in MotorStorm RC. It consists of an American football attached to a RC Rally Car chassis. It also sports the MotorStorm logo on its side.
Unlocking
Edit
This vehicle is unlocked by jumping through basketball hoop 20 times in the Playground.
The Touchdown was the first vehicle to be officially announced in MotorStorm RC.
The vehicle name and appearance are a homage to American Football.
References
Edit
Ad blocker interference detected!
Wikia is a free-to-use site that makes money from advertising. We have a modified experience for viewers using ad blockers

Wikia is not accessible if you've made further modifications. Remove the custom ad blocker rule(s) and the page will load as expected.