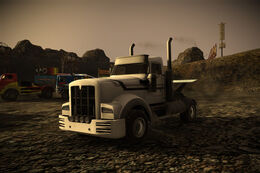 The Patriot Thunderchief is one of the many Big Rigs unlockable in MotorStorm and MotorStorm: Pacific Rift. It is a Big Rig that has been modified for racing, having a rear-mounted spoiler and race suspension.
The Thunderchief takes its name from the supersonic fighter-bomber of the same name.
The Thunderchief is also a standard PlayStation Network Avatar.
This vehicle is also available in the RC Pro-Am Expansion Pack for MotorStorm RC.
This truck somewhat resembles the Atlas Bobtail.
In a crash, the front grille of the Thunderchief can be crushed back and up, blocking the hood-camera.
On the outside route of the first corner in the track Dark Fire Swamp, there is a wrecked Thunderchief in the 'Quickfoot' livery, a livery obtained via DLC in Monument Valley.
In Pacific Rift, the Thunderchief is one of the very few vehicles to not carry over any liveries from the original MotorStorm.
References
Edit
http://community.us.playstation.com/thread/1381559?start=0&tstart=0
Ad blocker interference detected!
Wikia is a free-to-use site that makes money from advertising. We have a modified experience for viewers using ad blockers

Wikia is not accessible if you've made further modifications. Remove the custom ad blocker rule(s) and the page will load as expected.