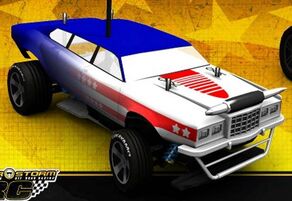 Yee-haw! Charging onto the track like a wild rodeo bull, this souped-up limousine is the fiercest Muscle Car ever to grace a MotorStorm Festival. Can you tame the beast and charge headlong to the finish line?
- PlayStation Store product description
The Patriot Stretch is a downloadable remote-control Muscle Car in MotorStorm RC. It resembles a 1986 Cadillac Fleetwood limousine with an oversized brush guard and bull horns attached to the hood.
Price/availability
Edit
The Stretch was available to purchase from the PlayStation Store for free for one week only. Now it is only a paid-for item.
References
Edit
http://www.facebook.com/MotorStormRC#!/photo.php?fbid=386090194746603&set=a.313948125294144.72987.275572505798373&type=1&theater
Ad blocker interference detected!
Wikia is a free-to-use site that makes money from advertising. We have a modified experience for viewers using ad blockers

Wikia is not accessible if you've made further modifications. Remove the custom ad blocker rule(s) and the page will load as expected.