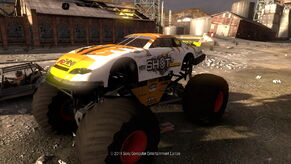 The
Patriot Stomper
is a
Monster Truck
featured in
MotorStorm: Apocalypse
. It consists of a
NASCAR
stock-car body mounted on a Monster Truck chassis.
How to Unlock
Edit
The Stomper is unlocked after completing three Level 3 Part Challenges with the Beelzebuggy Bombadier.
The Stomper also appears in MotorStorm RC as an RC Monster Truck.
This vehicle appears to share the body of the Patriot Renegade.
Until the release of the Falfer Tombstone, this was the only Monster Truck in Apocalypse that was a new design, as the other two defaults appeared in earlier titles.
No playable characters use this Monster Truck during the Festival in Apocalypse, although Lena uses one during her downloadable events.
This vehicle has working doors, tail lights, headlights, and a liftable trunk. A real NASCAR lacks all of these features, as does a real Monster Truck.
This vehicle is similar to Monster McQueen from the Disney Cars games, as both are simply stock cars mounted on a Monster Truck frame.
This is the 3rd Monster Truck to have a body from a smaller class mounted on a Monster Truck chassis. The other two are the Castro Monstruo ('Monstered' Castro Robusto) and the Beelzebuggy Bombadier ('Monstered' Beelzebuggy Carabid). The Atlas M-SUV does not count, as it is considerably longer than the Atlas Jackhammer.
The Stomper appears as a purchaseable PlayStation Network premium avatar.
References
Edit
Ad blocker interference detected!
Wikia is a free-to-use site that makes money from advertising. We have a modified experience for viewers using ad blockers

Wikia is not accessible if you've made further modifications. Remove the custom ad blocker rule(s) and the page will load as expected.