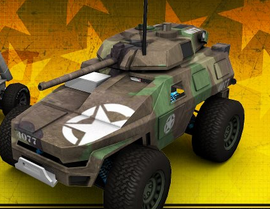 The Patriot Shellshock is reporting for duty! With impenetrable armour, this bullet-proof Big Rig is rolling out the big guns and will conquer anything in its path.
- PlayStation Store description
The Patriot Shellshock is a downloadable remote-control Big Rig for MotorStorm RC. Its body resembles various military armoured vehicles, such as the Oshkosh M-ATV , the XM1202 Mounted Combat System, with some design elements coming from other military vehicles, such as the M8 Greyhound.
Price/Availability
Edit
The Shellshock is currently available in the PlayStation Store for the price of €0.25/£0.21/$0.25.
The Shellshock could arguably be considered a Mud Plugger due to the fact that it shares numerous traits that other Mud Pluggers share.
The number "4077" stenciled on the front of the vehicle could, albeit unlikely, be a reference to the 4077, an Army Hospital in the M*A*S*H television series.
The Shellshock is the first vehicle within the MotorStorm Series, to be a drivable tank-like vehicle.
The Shellshock strongly resembles some mud plugger-like vehicles that are only seen in Tyler 's Prologue in MotorStorm: Apocalypse .  These vehicles do not have a gun turret, but they do appear to have a hatch on the roof in the same location as the mount for the Shellshock's turret.
References
Edit
http://www.facebook.com/MotorStormRC#!/photo.php?fbid=405657266123229&set=a.313948125294144.72987.275572505798373&type=1&theater