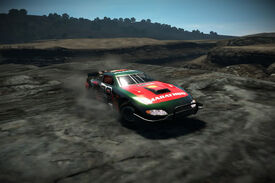 The Patriot Renegade is a rally car that made its first appearence in MotorStorm and reappears in MotorStorm: Pacific Rift. It looks similar to a NASCAR Ford Fusion; however, it has been modified with tube-frame front bumpers, and has off-road tires on all four corners as well two spare tires in a compartment in the back.
It appears to share the same body as the Patriot Stomper in MotorStorm: Apocalypse, which itself is a Monster Truck.
The vehicle returns in MotorStorm RC as a supercar.
The front left wheel rim seems to be smaller than all the other rims of the car.
Being slightly longer than the other rally cars, the Renegade tends to be slightly more unstable on turns or when swerving.
In Pacific Rift, this vehicle is unlocked by reaching Rank 5.
The Renegade can be seen in concept art for MotorStorm: Apocalypse, however it never made it to the final game.
In Motorstorm, on the track Sidewinder Gulch, there is a wrecked blue Renegade with a livery that is not used by the player or any AI opponents. It has a Numskull logo and a Marathon on the back as well as a 92 on the side.
Ad blocker interference detected!
Wikia is a free-to-use site that makes money from advertising. We have a modified experience for viewers using ad blockers

Wikia is not accessible if you've made further modifications. Remove the custom ad blocker rule(s) and the page will load as expected.