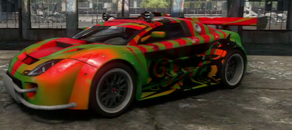 The
Patriot P10-XR
is a
Supercar
in
MotorStorm: Apocalypse
. It is the first Supercar available for non-Festival racing. It is typical of most supercars, having the engine located in front of the rear axle, behind the driver.
According to a comment made by Big Dog, this supercar has a V12 engine, however, if the engine is exposed due to damage sustained by the vehicle, a V8 engine can be seen.
Mash drives this car on the location Good Herb: "Bridge to Nowhere" during his events of the festival.
The P10-XR bears a likely resemblance to the small-volume American supercar, the Rossion Q1.
The RC version of the P10-XR also makes a slight cameo appearance in Yoshimi 's shelf, alongside the RC Mirage 101 .
Its styling is influenced heavily by many mid-engined sports cars, such as the Gumpert Apollo. The default headlights are from the Koenigsegg Agera.
It is possible, with the appropriate parts, to cover almost all of the bodywork in unpainted carbon fibre.
The P10-XR returns in MotorStorm RC as a remote-control Supercar.
References
Edit