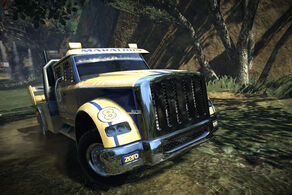 The Patriot Minuteman is a Big Rig in MotorStorm: Pacific Rift. It has both a standard engine as well as a jet engine at the back that ignites while boost is in use; however, it appears to do nothing to the vehicle's speed.
This vehicle seems to be inspired by the jet-powered truck Shockwave.
This machine is named after the Minuteman of the American Revolutionary War.
The truck portion of the vehicle resembles a Peterbilt 385.
This vehicle has a large amount of chromed surfaces, including the front bumper and grill, as well as the jet engine itself.
The Atlas M-SUV also has a jet engine attached to the rear of the vehicle, just like the Minuteman.
This is the longest Big Rig, making it a primary choice for Track Blockers.
Jayanti (green/pink livery), "Weeman" Jones (blue/yellow livery) and Lucky Jack Flynn (purple/white "flames" livery) are the AI Characters seen driving this vehicle.
It is one of the default Big Rigs in Pacific Rift, the other being the Molotov Caucasus.
References
Edit
http://community.us.playstation.com/thread/1381559?start=0&tstart=0
igcd.net
Ad blocker interference detected!
Wikia is a free-to-use site that makes money from advertising. We have a modified experience for viewers using ad blockers

Wikia is not accessible if you've made further modifications. Remove the custom ad blocker rule(s) and the page will load as expected.