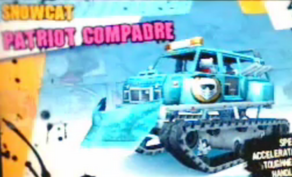 The
Patriot Compadre
is a
Snow Cat
in
MotorStorm: Arctic Edge
. It is the final Snow Cat unlocked by players.
Arctic Edge Customizable Parts
Edit
Plough (Colour changing only)
Lights
Framework (Colour changing only)
Exhaust
Rear Item
Number of available slots for sponsor stickers: 7
Bonus livery: Yes
Unlike the other models, it has a v-shaped plow, and a body that resembles a Chevrolet Van, the Compadre also somewhat resembles the Lunar-Tec Wendigo.
This vehicle's exhaust pipes exit through the rear-side windows.
This vehicle has a bonus livery unlocked from the Killzone Emblem bonus pack.
"Compadre" is a Spanish word that can translate to "godfather", "friend", or "protector" in English.
It possesses a combination of the highest stats of the first two Snowcats and is most likely the best choice for hardcore racers.
It is the final snowcat unlocked by completing the snowcat invitational tournament.

References
Edit
Ad blocker interference detected!
Wikia is a free-to-use site that makes money from advertising. We have a modified experience for viewers using ad blockers

Wikia is not accessible if you've made further modifications. Remove the custom ad blocker rule(s) and the page will load as expected.