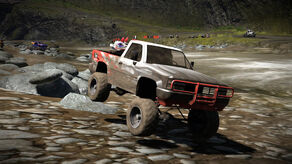 The
Patriot
Bushwacker
is a
Mud Plugger
in
MotorStorm
and
MotorStorm: Pacific Rift
. This vehicle, unlike other Mud Pluggers, is based on a pickup truck, unlike the predominately SUV-based designs.
This vehicle may be named after the company Bushwacker, which makes fender flares for many vehicles, some of which become real-life off-roaders.
In MotorStorm: Monument Valley, there are a few liveries that can only be used by AI opponents, one of which humorously reads "Big Joe's Chili Dogs". Strangely, this Bushwacker can also be found in Pacific Rift; wrecked Chili Dog trucks are attached to poles on Reef Runner. And can also be spotted on Riptide after the first jump
The Bushwacker appears in some pieces of concept art for MotorStorm: Apocalypse, but is not present in the finished game.
The Bushwacker tends to be more stable than others of its class, and also goes through deep water and rough terrain with more ease.
It closely resembles the Chevrolet S-10.
It shares some features with the Voodoo Mastadon, such as the headlights and the tail lights.
In Pacific Rift, Alexander Murdoch (orang/red livery), Leethal Docherty (grey/red livery) and Henry T. Pops (red/blue/white "Panzer" livery) are the AI Characters seen driving this vehicle.
References
Edit
http://community.us.playstation.com/thread/1381559?start=0&tstart=0