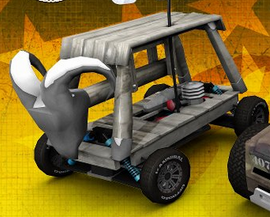 Accelerate to ramming speed and smash your best times in the hard-hitting Nörd Ram. Pity any vehicles unfortunate enough to get in the way of this brutal Buggy - then continue to plough straight through them.
- PlayStation Store description
The Nörd Ram is a remote-control downloadable Buggy in MotorStorm RC. It is based on a medieval Battering Ram.
Price/Availability
Edit
The Ram is currently available from the PlayStation Store for the price of £0.21/ €0.25/$0.21.
The Ram is the first all-wooden vehicle to be introduced into the series, although some could argue it is made from plastic (due to it being an RC car).
References
Edit
http://www.facebook.com/MotorStormRC#!/photo.php?fbid=405657266123229&set=a.313948125294144.72987.275572505798373&type=1&theater
Ad blocker interference detected!
Wikia is a free-to-use site that makes money from advertising. We have a modified experience for viewers using ad blockers

Wikia is not accessible if you've made further modifications. Remove the custom ad blocker rule(s) and the page will load as expected.