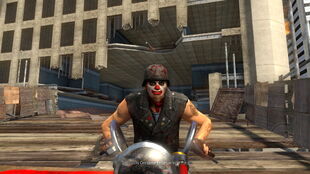 Mr. Magic wears the face of the Mr. Magic Candy Clown, even though Mr. Magic brand candy hasn't used that promotion since the seventies. He hates when large corporations change the names of his favourite products.
"Is the Candy Clown around?" - Mr. Magic
- Festival Card #010
Mr. Magic is a character in MotorStorm: Apocalypse. He must be unlocked by levelling up in online play.
Appearance
Edit
Mr. Magic's most defining feature is his face paint, which makes him resemble a clown. He wears an armless leather jacket which reveals numerous tattoos, and underneath he can be seen to have a grey vest. He is also one of the few characters to wear a helmet.
Ad blocker interference detected!
Wikia is a free-to-use site that makes money from advertising. We have a modified experience for viewers using ad blockers

Wikia is not accessible if you've made further modifications. Remove the custom ad blocker rule(s) and the page will load as expected.