MotorStorm RC

Developer

Evolution Studios

Publisher

Sony Computer Entertainment Europe

Platform(s)

PlayStation 3
PlayStation Vita

Ratings

ACB: G
ESRB: E
PEGI: 3

Media

Digital Distribution
MotorStorm RC is the last installment in the MotorStorm series for the PlayStation 3 and the PlayStation Vita, downloadable via PlayStation Store. The game features remote-controlled vehicles, rather than the full-size vehicles as of the previous titles. There are 16 tracks set in the locations of the four previous MotorStorm titles. Many of the RC vehicles in the game are based off of models from previous games. This game also features "Pitwall", an online feature where new lap times or records are posted.
On the 19th December 2012, a Complete Edition was released, featuring all extra downloadable vehicles.
Game Modes
Edit
In addition to the classic game modes, such as Festival, Wreckreation, and Multiplayer, MotorStorm RC also has an exclusive game mode called Playground.
Race Types
Edit
There are four different types of race events in MotorStorm RC.
Normal, lap-based race. Medals are awarded on the player's finishing place e.g. 3rd = 1 medal, 2nd = 2 medals, 1st = 3 medals.
The player is given an unlimited number of laps in order to beat 3 set lap times, each with increasing difficulty.
Muscle Car-exclusive events. The player must gain a certain number of drift points within 3 time limits.
The player must overtake a set number of opponents, within three increasingly difficult time limits, in order to win.
There are a total of 26 tracks in MotorStorm RC (including the DLCs). They are as below: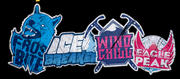 DLC Tracks
Edit
These are all of the downloadable tracks available for MotorStorm RC.
Shred Space
Skate Factory
Grindhouse
Shove-It
Main Article: MotorStorm RC/Vehicles
Main article: MotorStorm RC/Trophies
Concept Artwork
Edit
Main article: MotorStorm RC/Art Gallery
Main article: Festival Patch 1.02
Tie-in with Scion
Edit
The Vita version of MotorStorm RC in the USA was available, for a limited time only, to be downloaded for free. Included in this special offer was an RC version of the Scion iQ; this makes it the first real-life vehicle to be featured in the MotorStorm universe.
Soundtrack
Edit
Once the dust has settled on the MotorStorm RC Festival, drown out the ringing in your ears with seven tracks of high-octane music from the game. Featuring over 28 minutes of music direct from the Festival circuit, this exclusive music download will let you relive some of the epic locations, vehicles and race events from MotorStorm RC.
- PlayStation Store description
The custom soundtrack for RC is available to download from the PlayStation Store for the price of £1.59. Seven different tracks are featured, as outlined below:
Lap 1 - 05:31
Lap 2 - 02:55
Lap 3 - 03:21
Lap 4 - 04:49
Lap 5 - 03:34
Lap 6 - 03:29
Lap 7 - 04:42
Total length: 28 minutes 21 seconds.
Some of the cars in the trailer can be seen with glow rims.
This is the first of the series to include cross-platform multiplayer between the PS3 and PS Vita.
This is also the first game in the series not to feature boost, nor do vehicles have damage physics.
Bikes, ATVs, Superbikes, Choppers, and Mud Pluggers do not appear in this installment of the MotorStorm franchise. Two-wheeled RC vehicles would have to deal with the issue of balance which, since they are not being ridden, would be drastically amplified, while RC ATVs are deemed impossible without a rider figure. RC Mud Pluggers would probably be too similar to the RC Racing Trucks to warrant the addition of another vehicle class.
The vehicles themselves also handle extremely different from the previous games, having a much tighter turning radius, a common characteristic of RC vehicles.
The concept art for the track Sandstorm features an airstream caravan/trailer at the trackside.
A lot of cars have gone through class changing processes, e.g. the Castro Conquistador has gone from Racing Truck to Muscle Car, the Monarch Claymore has gone from Mud Plugger to Racing Truck, the Italia Strano has gone from Rally Car to SuperMini, The Patriot Renegade has gone from Rally Car to Supercar, and the Ozutsu Tanto has gone from Racing Truck to SuperMini.
This is the first game of the series to get an "E" rating from ESRB , and also the first one to get a 3+ rating from PEGI.
---
| | |
| --- | --- |
| | MotorStorm RC was the Featured Article for the MotorStorm Wiki in March 2012. |
For more images related to MotorStorm RC, please click here.
---
References
Edit
http://community.eu.playstation.com/t5/MotorStorm/Motorstorm-RC/td-p/14214987
http://www.bigsquidrc.com/motorstorm-rc-for-ps3-and-ps-vita/
http://www.facebook.com/MotorStormRC#!/MotorStormRC
http://blog.us.playstation.com/2012/03/05/motorstorm-rc-driving-to-ps-vita-for-free-courtesy-of-scion/
Ad blocker interference detected!
Wikia is a free-to-use site that makes money from advertising. We have a modified experience for viewers using ad blockers

Wikia is not accessible if you've made further modifications. Remove the custom ad blocker rule(s) and the page will load as expected.