There are a total of 15 AI characters in MotorStorm: Arctic Edge. They also serve as AI opponents in the game.
Character Listing
Edit
Jackson Stone
Alex Murdoch
Lily Pink
Kat Rock
Yasmine Sharpe
Ali Stoneground
Johnny Harrison
Mira Hawk
Candy Buzzbomb
Dimitri Molotov
Edward T. Foxbat
Dylan Blaze
Jeff Lawless
Kid Million
Oscar Gratz
Kid Million also appears in every other MotorStorm game.
All of the characters listed above are unlocked by completing the Festival.
There are also a few characters available exclusively to the player, with seven of them unlocked at the beginning of the game. The other two include:

Helghast Elite Trooper (unlocked by finding all 5 Killzone Emblems)
Outlaw Driver (unlocked by finding all 5 Pursuit Force Emblems)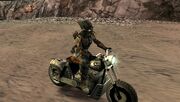 Ad blocker interference detected!
Wikia is a free-to-use site that makes money from advertising. We have a modified experience for viewers using ad blockers

Wikia is not accessible if you've made further modifications. Remove the custom ad blocker rule(s) and the page will load as expected.