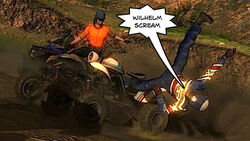 This is a User Reviews page.
Here you can review this game or just add some of your words and comments. Here are some guidelines:
Please do not swear or use offensive language. Any reviews containing these will be deleted and you may recieve a ban. The same will be seen of spamming or writing in SOLID CAPITAL LETTERS.
Don't write massive walls of text. These are unsightly and difficult to read, so remember to make a break for seperate paragraphs.
Sign the end of your comment with four tildes like this: ~~~~
Ad blocker interference detected!
Wikia is a free-to-use site that makes money from advertising. We have a modified experience for viewers using ad blockers

Wikia is not accessible if you've made further modifications. Remove the custom ad blocker rule(s) and the page will load as expected.