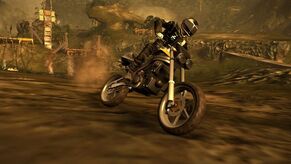 The
Monarch Sparrowhawk
is a
bike
appearing in
MotorStorm: Pacific Rift
. It is moreso a light street bike, rather than a dirt bike. Some compare it to a
Triumph Speed Triple
.
Pacific Rift press kit descriptionEdit
Manufacturer: Monarch
Production: 2007 to date (200 to be produced - 5 Race specific)
Chassis: Aluminium frame with Monarch Vibration Reduction System (MVRS)
Engine Type: 1206cc 4 stroke V – Twin
Power output: 156bhp Torque: 168 Nm / 124 ft. lbs.
Transmission: 5-speed
Wheelbase: 1500mm (59.06in)
Length: 2170mm (85.4in)
Width: 838mm (33.in)
Height: 1211mm (47.7in)
Curb weight: 196kg (432Lbs)
Top Speed: 112mph
0-60: 3.5 seconds
0-100: 6.8 seconds
Designer: B R Curtis
Engineers: Andrew Bolt, Neil Massam, David Griffiths, Jen Wie Tse, Chris Gage, Simon Gibson
British born Monarch received unrivalled track success starting in the early 80's and continued throughout the 90's with their Monarch Champ model. In recent years they have turned their efforts to producing adrenaline pumping street racers with continued success. However in the first "MotorStorm" rally it was clear that they needed to bring an all new, specific built bike if they intended to perform well. It was an obvious choice to start with the Monarch Sparrow street racer as the base for the Sparrowhawk, but with a full "MotorStorm" make over, this is a completely different beast to tame, with its all new V-Twin engine and strengthened frame, swing arm and suspension components.
Despite it having superbike style road tyres, this is one of the best handling bikes.
This bike has a unique 4 stroke engine tone, sounding like an ATV, as opposed to the other bikes which have a higher pitched 2 stroke engine tone.
It is unlocked through the completion on the Friendship Trophy, which is a rather awkward trophy to get as it requires 4 controllers, although it may glitch and be unlocked with two.
Candy Buzzbomb (green livery), General Zegg (grey livery) and Cerridwen (orange "Flames" livery) are AI Characters seen riding this vehicle.
References
Edit
http://www.igcd.net/vehicle.php?id=20075&PHPSESSID=c18ff1&width=1441