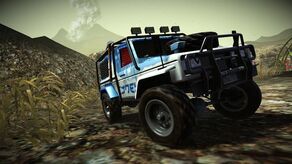 The
Monarch Drover
is a
mud plugger
in
MotorStorm: Pacific Rift
, but only for those who download the
Adrenaline Pack DLC
. It bares a strong resemblance to a lightly modified Land Rover Defender 90.
The name "Drover" is almost certainly formed from the real-life manufacturer name Land Rover, but with the first three letters removed.
The Drover has also been praised for having better handling than other Mud Pluggers, much like the Mirage Bastille, although it is also the more prone to having a rollover.
The Drover seems to have a faster throttle response than other Mud Pluggers, this is especially noticable when accelerating off the starting line.
Ironically, despite one of its liveries being snow-themed, the vehicle itself doesn't appear in Motorstorm: Arctic Edge.
References
Edit
http://www.igcd.net/vehicle.php?id=20077&PHPSESSID=95438a32e7b2d33c7089f08281714e8f&width=1192
motorstorming.comyr.com
Ad blocker interference detected!
Wikia is a free-to-use site that makes money from advertising. We have a modified experience for viewers using ad blockers

Wikia is not accessible if you've made further modifications. Remove the custom ad blocker rule(s) and the page will load as expected.