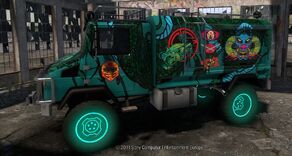 "A war-themed big rig that delivers plenty of pain to the opposition and comes with a warrior livery pack."
- PlayStation Store description
The Molotov Uradna-66 is a Big Rig appearing in the Revelation Pack DLC for MotorStorm: Apocalypse. It has louvres over the rear window, and various compartments on the sides.
The Uradna-66 comes with usable neon glowing wheels. However, after certain patches, many users have reported that the glow wheels have disappeared from their wheel selection menu. Despite this, if a player had these wheels installed before the patch, they may still be on their vehicle, but they will be lost if swapped out and cannot be shared via the livery sharing on the MotorStorm website.
There was also a set of gold-plated rims for the Uradna, but they disappeared along with the glow rims during a patch; however, the Gold Rims have since been restored in a DLC pack.
The "Warrior Livery Pack" that comes with the Uradna-66 centralizes around a traditional Japanese-style warrior and dragon theme.
Whereas its sibling in the same game, the Shelka, seems to be rather old and is actually ageing and rusting in particular areas (at least in its stock form), the Uradna-66 has many clean chrome parts and even a carbon fiber louvre on the rear.
Which may make it the Shelkas succesor.
This is the only Molotov vehicle with a number in its name.
The Uradna-66 resembles the Unimog U3000.
"Uradna" is Slovenian for "official".
References
Edit
http://grcade.com/viewtopic.php?f=2&t=17607&start=2340
igcd.net
Ad blocker interference detected!
Wikia is a free-to-use site that makes money from advertising. We have a modified experience for viewers using ad blockers

Wikia is not accessible if you've made further modifications. Remove the custom ad blocker rule(s) and the page will load as expected.