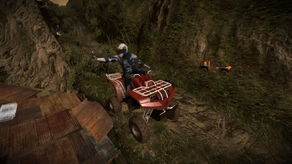 The Molotov Stuuka is an ATV featured in MotorStorm and MotorStorm: Pacific Rift. It is somewhat of a go-between of the civilian and racing ATVs, such as the Yamaha Grizzly. It has provisions for mounting attachments and accessories, but has none.
"Shtooka" (russian "Штука") means "piece" in Russian.
The Stuuka looks similar to the Molotov Sickle.
It is one of the default ATVs in the original MotorStorm, alongside the Ibex Bushfire.
In Pacific Rift, Chunky Baxter (blue/black livery), Lucky Jack Flynn (red livery) and Annaleisa Moosbrugger (white/olive livery) are the AI Characters seen riding this vehicle.
References
Edit
http://www.jeuxvideopc.com/forums/jeux/jeu/motorstorm-pacific-rift/vehicules-liste-sujet_89550_1.htm