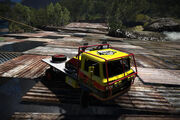 The
Molotov Baikal
is an unlockable
Big Rig
in
MotorStorm: Pacific Rift
. It is a flatbed truck modified for racing, as evidenced by the roll cage built around the cab. Its overall design hints that it may have originally been retrofitted to participate in off-road endurance racing.
This vehicle's name comes from a lake in Russia.
It closely resembles a rally raid T4 Dakar truck, although unlike them it has no large compartment over the rear wheels.
"Baikal" is actually spelt and pronounced "Baykal" in Russian and in English.
Candy Buzzbomb (white/yellow livery) and Drew Baird (red/yellow "LOBL" livery) are AI Characters seen driving this vehicle.
References
Edit
http://en.wikipedia.org/wiki/Lake_Baikal
http://community.us.playstation.com/thread/1381559?start=0&tstart=0
igcd.net