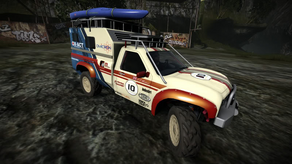 The
Mojave Globetrotter
is a pickup truck-based
Mud Plugger
appearing in
MotorStorm: Pacific Rift
. Fitting for its name, it has living quarters over the truck bed, and a roof rack for carying many items. It simply seems to be a
truck camper
that has been given basic modifications to allow it to race off the road.
The Globetrotter resembles the Toyota Tundra.
In a cinematic in Pacific Rift, a Globetrotter is driven off of a cliff. The occupants bail out and open parachutes and survive; needlessly to say, the truck does not.
This vehicle can be unlocked by earning the "Speed Demon" Trophy.
The wheelarches on this vehicle appear to be riveted-on aftermarket items.
Closer inspection, for example when the body panels fall off in a crash, reveals that there is a full race-spec spaceframe.
There are Union Jack British flags on the kayak on the roof.
Using the photo camera, it is possible to see that a TV is fitted to the inside of the Globetrotter. On one of the liveries, the image inside the TV contains two MotorStorm developers, with one of them covering the face with a sombrero, and the text reads "Pretty Shy ;)".
A matte-black "Mute Bear" livery is available for this vehicle in the Adrenaline Expansion Pack.
On the Globetrotter with the Ravine and Marathon logo, the word LOSER is graffitied on side.

References
Edit
http://community.us.playstation.com/thread/1381559?start=0&tstart=0
motorstorming.comyr.com
http://www.igcd.net/vehicle.php?id=16763&width=1366
igcd.net
Ad blocker interference detected!
Wikia is a free-to-use site that makes money from advertising. We have a modified experience for viewers using ad blockers

Wikia is not accessible if you've made further modifications. Remove the custom ad blocker rule(s) and the page will load as expected.