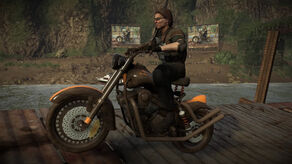 The
Mohawk Roadhog
is a
Bike
in
MotorStorm
and
MotorStorm: Pacific Rift
. Like other Mohawk vehicles, it is a classic design, this one having dual exhaust pipes, teardrop fuel tank, and even a small fin on the rear fender. The Roadhog seems to be based upon the Harley-Davidson Fat Boy, with some modifications for Off-Road racing.
In Pacific Rift, one acquires this vehicle after reaching Festival Rank 5.
Also in Pacific Rift, the Roadhog has a different engine sound than others in it's class. (Also applies to the Mohawk Indiana.)

Applying the DLC livery for the Roadhog gets rid of this.

The Roadhog appears in the Devil's Weekend DLC in the original MotorStorm.
It bears a close resemblance to its neighbouring Bike, the Mohawk 66.
Like the Atlas Governor, the Roadhog may be a reference to the movie Terminator 2: Judgement Day, as it somewhat resembles the bike used by the T-800 when he's escaping the T-1000, looking to terminate John Connor.
In Pacific Rift, Evalyn Malachite (red & camo livery), Travis Ryan (faded blue livery) and Tommy Knocker (black/orange livery) are the AI Characters seen riding this vehicle.

Furthermore, the aformentioned red & camo livery is shared with the Molotov Elbrus.
References
Edit
http://community.us.playstation.com/thread/1381559?start=0&tstart=0