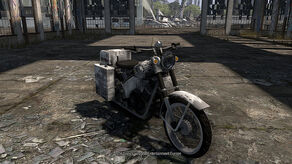 The
Mohawk Indiana
is a
bike
that has the honor of appearing in nearly every installment of MotorStorm so far. It is modelled after multiple classic late 1950s American motorcycles, often appearing with compartments and cases mounted on both sides and above the rear wheel. These accessories are referred to as "Panniers" when customizing this Bike in
MotorStorm: Apocalypse
.
Arctic Edge Customizable Parts
Edit
Wheels (Colour changing allowed)
Lights
Framework (Colour changing only)
Exhaust
Luggage
Number of available slots for sponsor stickers: 3
Bonus livery: No
In Pacific Rift, one acquires this vehicle after reaching Festival Rank 3.
This bike is most likely named "Indiana" because it closely resembles the motorcycle used by Indiana Jones in "The Last Crusade".
Like the doors on most cars, the panniers can fall off after a certain amount of damage.
There is a humorous bug where the rider will occasionally fall off (or get knocked off) and the bike will keep upright and moving until it hits another object (although this bug could also possibly extend to other Bikes).
This is one of three vehicles named after US States, others being the Atlas Arizona and the Mohawk Montana.
The Indiana is one of MotorStorm's primary seven signature vehicles.
The Indiana, Wasabi Phoenix, Wasabi Wildcat MX, Wulff Enduro and the Wombat Typhoon are the only vehicles to have appeared in every title, excluding Arctic Edge, although the Wombat Typhoon and the Mohawk Indiana did appear in Arctic Edge (this excludes Apocalypse DLC vehicles such as the Patriot Surger, Mojave Slugger and Voodoo Iguana, which are included in the Remix Pack, making them technically appear in all console titles too).
Sometimes in Apocalypse, the rear wheel can 'phaze' through the framework above it when landing a big jump.
It is one of the default bikes in the original MotorStorm, alongside the Monarch Champ.
In Pacific Rift, Janine Brazon (blue livery), Mohinder (olive livery) and Mira Hawk (black/red livery) are the AI Characters seen riding this vehicle.
References
Edit
http://community.eu.playstation.com/t5/MotorStorm/Motorstorm-Apocalypse-Vehicle-Guide-V1/m-p/12667487