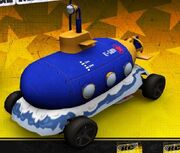 "Land ahoy! Make waves on every track with the Mirage Mariner - a special submarine come Supermini unlike anything else seen before."

lse els  
- PlayStation Store description
The Mirage Mariner is a downloadable remote-control SuperMini in MotorStorm RC. It is based on a surfaced submarine, with waves underneath. The text on the side of the vehicle reads "U-589".
Price/availability
Edit
The Mariner is available to download from the PlayStation Store for the price of €0.25/£0.21/$0.25.
The text on the side likely is a reference to the German U-boats, more specfically U-589, which was a U-boat.
References
Edit
http://www.facebook.com/MotorStormRC#!/photo.php?fbid=414119911943631&set=a.313948125294144.72987.275572505798373&type=1&theater
Ad blocker interference detected!
Wikia is a free-to-use site that makes money from advertising. We have a modified experience for viewers using ad blockers

Wikia is not accessible if you've made further modifications. Remove the custom ad blocker rule(s) and the page will load as expected.