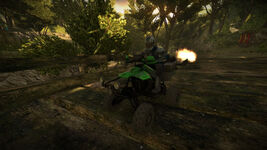 The Mirage Caliano is an ATV in MotorStorm and MotorStorm: Pacific Rift. It is one of the lighter working ATVs, having compartments attached to the rear, but it is not quite as bulky in appearance as the other work-type ATVs. It is rather a hybrid of a utility and race type, having a small compact body with a rear spoiler, but also having a front bullbar with lights and small cargo pouches near the rear.
In Pacific Rift, you unlock this vehicle once you reach Rank 6.
The front lightpod is identical to that of a neighbouring ATV, the Aztec Sabretooth.
In Pacific Rift, Ali Stoneground (white livery), Reverend Black (black livery) and Big Pig (green livery) are the AI Characters seen riding this vehicle.
References
Edit
http://www.jeuxvideopc.com/forums/jeux/jeu/motorstorm-pacific-rift/vehicules-liste-sujet_89550_1.htm