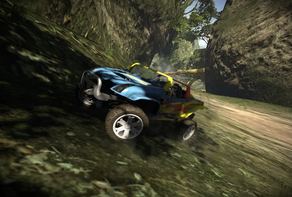 The McQueen Adventure takes flavours of dune buggies and Jeep concepts to create a modern Mud Plugger, built for all terrain. Rough, tough and stylish, this is perfect for extroverts who like to turn heads while turning laps.
- PlayStation Store description
The McQueen Adventure is a Mud Plugger available for MotorStorm in the Domino & Adventure DLC, and appears on the disc for MotorStorm: Pacific Rift. It is described by developers of the game as "a stylish way to get around the track."
Resemblance
Edit
The Adventure is most likely inspired by Jeep concepts such as the Hurricane and the Renegade.
The name "McQueen" may come from, or at least be inspired by, the character Lightning McQueen from Pixar's movie Cars, Cars 2 and Cars 3. Incidentally, it could be inspired by his direct inspiration, Steve McQueen.
McQueen is one of three vehicle manufacturers that has only one vehicle in their respective lineups, the first being Wakazashi and the second being Humbler.
The same three manufacturers are missing from the list of customization stickers in MotorStorm: Apocalypse.
Like all other DLC vehicles from MotorStorm, it is one of the few vehicles in Pacific Rift that doesn't carry any liveries over from the original game.
In Pacific Rift, Russell Scott (blue/yellow livery) and Shandy Hand (yellow/red "sun" livery) are AI Characters seen driving this vehicle.
References
Edit
http://community.us.playstation.com/thread/1381559?start=0&tstart=0 http://community.us.playstation.com/thread/1381559?start=0&tstart=0