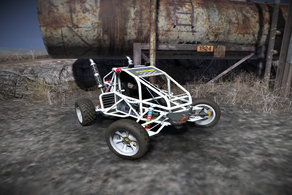 The
Lunar-Tec Treefrog
is a
buggy
appearing in
MotorStorm: Pacific Rift
. It is one of the smallest buggies in the game, having the driver competely surrounded in rollcage tubing, and having somewhat humorous
Big Rig
style rear exhausts.
The Treefrog is somewhat disputed in the MotorStorm community - some players dislike it because of its handling while others prefer it.
Due to its shape and weight, Treefrog is good for fighting other buggies.
Ironically, the Treefrog speaks its name by being quite agile, jumping from one location to the next.
The Treefrog is the smallest overall Buggy.
References
Edit
http://community.us.playstation.com/thread/1381559?start=0&tstart=0
Ad blocker interference detected!
Wikia is a free-to-use site that makes money from advertising. We have a modified experience for viewers using ad blockers

Wikia is not accessible if you've made further modifications. Remove the custom ad blocker rule(s) and the page will load as expected.