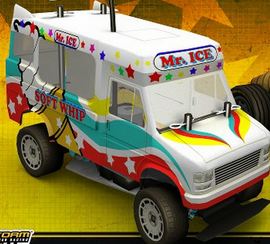 The Lunar-Tec Screamer is a downloadable remote-control Rally Car in MotorStorm RC. The Screamer is a based on a retro ice cream van.
Price/Availability
Edit
The Screamer is available to download from the PlayStation Store for the price of €0.25/£0.21/$0.25.
Although the Screamer is based off a generic van, it appears to be inspired mostly by vehicles like the Ford Transit.
Ad blocker interference detected!
Wikia is a free-to-use site that makes money from advertising. We have a modified experience for viewers using ad blockers

Wikia is not accessible if you've made further modifications. Remove the custom ad blocker rule(s) and the page will load as expected.