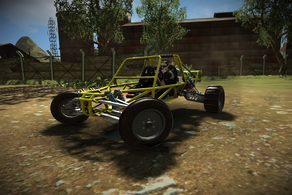 The
Lunar-Tec Rollcage
is a
Buggy
appearing as a
DLC
in
MotorStorm
, then as an on-disk vehicle in
MotorStorm: Pacific Rift
. As the name suggests, it consist entirely of an exposed roll-cage frame, with no body panels or coverings except for a small rear spoiler.
This Rollcage is unlocked in MotorStorm after the Revenge Weekend DLC Festival has been completed.
The Rollcage uses paddle tires for the rear set of wheels and treadless sand tires for the front set, a setup seen only on the Rollcage and the Wombat Beachmaster.
This Buggy is modelled after a typical sandrail, sandrails being a type of real-life buggy made specifically for traversing sand at speed. However, unlike sandrails, the Rollcage features no metal body panels covering the sides, only having a rollcage.
This is one of the default Buggies in Pacific Rift, the other being the Jester BXS.
In Pacific Rift, Evalyn Malachite (red livery), Russell Scott (yellow livery) and Shandy Hand (white livery) are the AI Characters seen driving this vehicle.

It is interesting to note that these same 3 drivers all drive the 3 Patriot Riot's and Wasabi Rascal's in their respective liveries.
References
Edit
http://community.us.playstation.com/thread/1381559?start=0&tstart=0
igcd.net
motorstorming.comyr.com