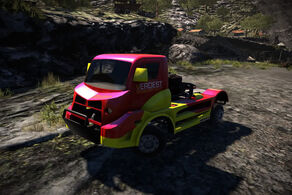 The
Lunar-Tec Invader
is a
Big Rig
in
MotorStorm: Pacific Rift
, as well as the original
MotorStorm
. It has a traditional European cab-over-engine body design. Like the
Buffalo
, it is a more race-oriented, aerodynamic vehicle, perhaps inspired by the
FIA track-racing trucks
, but toughened for MotorStorm with the addition of front and rear bull bars.
In Pacific Rift, you unlock this vehicle when you reach Rank 6
It is the final Big Rig unlocked in Motorstorm
It has a total of ten (five on each side) side-mounted exhaust pipes. This makes for one of the most unique exhaust layouts in the series.
This vehicle is also prone to graphical errors. In MotorStorm, it not only acts as if it only has two exhaust pipes (one on each side); but also the boost flames go straight back, as opposed to facing outwards.

In Pacific Rift, both of these issues are fixed, but only eight (four on each side) boost flames are visible.

In Pacific Rift, Oscar Gratz (red/yellow livery), Gemma Hewitt (black/green livery) and Evalyn Malachite (white/blue livery) are the AI Characters seen driving this vehicle.
References
Edit
http://community.us.playstation.com/thread/1381559?start=0&tstart=0