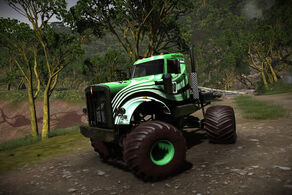 The
Lunar-Tec Grendel
is a
Monster Truck
featured in
MotorStorm: Pacific Rift
. It resembles a semi-truck body mounted on a Monster Truck chassis. Its body is nearly the same as the
Patriot Thunderchief
, but without the rear spoiler, the red and white bage on the front grille and the sun visor, also in
Pacific Rift
; the front of the Grendel is noticeably shorter than the Thunderchief's, alongside a longer roof than the Thunderchief.
A Monster Truck similar to the Grendel named "Big Fudge" is depicted in the advertisement for Monster Storm in a motion comic in Apocalypse, along side various other Monsters.
The Grendel somewhat resembles the real life monster truck Big Pete.
Grendel is the name of the monster in the poem Beowulf.
That being said, it shares the theme naming of Lunar-Tecs other Monster Trucks, all being named after mythical beasts and monsters. 
The Grendel tends to roll over when drifting because of its tall cab.
You unlock this vehicle once you reach Rank 6.
Mohinder (orange/yellow "flames" livery), Alexander Murdoch (green livery) and Gemma Hewitt (blue livery) are AI Characters seen driving this vehicle.
References
Edit
http://community.us.playstation.com/thread/1381559?start=0&tstart=0
motorstorming.comyr.com
Ad blocker interference detected!
Wikia is a free-to-use site that makes money from advertising. We have a modified experience for viewers using ad blockers

Wikia is not accessible if you've made further modifications. Remove the custom ad blocker rule(s) and the page will load as expected.