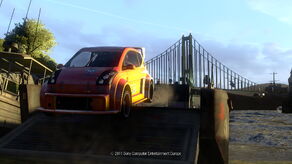 Landing craft
are ships seen at the opening sequence of
MotorStorm: Apocalypse
. They are used to land vehicles, including the first one driven by the player in the Festival, onto a beach near the city. They have the MotorStorm logo painted on the sides and front. Other landing crafts are utilised by
DuskLite
to carry
tanks
 and soldiers.
During Mash's Prologue, out of the several landing craft on the beach, only two landing craft besides the one Mash uses contain any vehicles. The rest are all empty.
References
Edit
Ad blocker interference detected!
Wikia is a free-to-use site that makes money from advertising. We have a modified experience for viewers using ad blockers

Wikia is not accessible if you've made further modifications. Remove the custom ad blocker rule(s) and the page will load as expected.