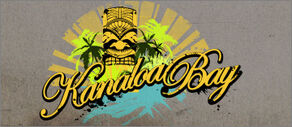 Sun-kissed, secluded, sandy, and slightly more treacherous than its good looks first suggest, Kanaloa Bay is a great track to be a spectator at. It's an awesome beach party with a welcome smattering of vehicular carnage running through it. But beware the dark territory beyond the lagoon – space gets real tight, real quick in that steamy jungle stretch.
- Loading screen desciption
Kanaloa Bay is an Earth Zone track in MotorStorm: Pacific Rift. It is mostly a beach track, which then enters a somewhat dense jungle. This track holds many different routes such as deep mud and water, or higher rock and grass. This course is friendly to most vehicle types but choose your route carefully otherwise you may end up in last place.
Festival races
Edit
"Heavy Wait" - Rank 2 - Big Rig - time limit: 3:15 - 2 laps
"Sands of Time" - Speed event - Rank 2 - Buggy
"Riding the Wave" - Rank 5 Bike/Rally Car 2 laps
"Speed Freak" - Rank 7 - Bike - wreck limit: 3 - 3 laps
"Breaker" - Eliminator - Rank 7 - Big Rig
Kanaloa Bay is the first playable track in the Earth Zone section of The Festival and is always the default track in Wreckreation.
This track's map suggests that it runs around the bottom of a presumably extinct volcano (evidenced by the greenery within the cinder cone).
Kanaloa is the only track with a Hawaiian-themed name despite the Island's great resemblance to the real-life islands.

At the end of the first lap of the race "Light Fantastic", you will see a helicopter transporting a damaged Wasabi Rascal.
After the start line, there can be found a beached shipwreck displaying the Kanaloa Bay logo. This, like many other obstacles in the game, can be knocked over, however it is suggested to do this only in the heavier vehicle classes such as the Monster Trucks, Big Rigs, and Mud Pluggers). If it is hit with smaller vehicles such as the Rally Cars they can easily wreck.
No matter the vehicle, the best routes in the jungle section of the track tend to take the high ground.
The term "Kanaloa" translates to many things in the Hawaiian language such as:
Symbolism for octopus/squid     
The name of an extinct volcano in Hawaii
The god of the underworld